Current DateTime: 11:30:26 07 Feb 2009
LinksList Documentid: 23452764
Expiration DateTime: 2/7/2009 11:33:24 PM

Current DateTime: 11:30:41 07 Feb 2009
LinksList Documentid: 23452000
Expiration DateTime: 2/7/2009 11:33:40 PM


Current DateTime: 01:01:45 07 Feb 2009
LinksList Documentid: 24355697


Current DateTime: 01:01:45 07 Feb 2009
LinksList Documentid: 24890560
In Hard Times, Business of Love Goes Strong
Despite the souring economy, the business of love is sweeter than ever.
Traffic at online dating networks and engagement auction sites is booming; even New York City is trying to get a piece of the action.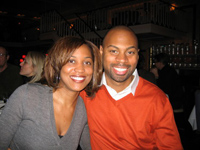 Courtesy Match.com
Riche and Cedric Grant met on Match in December 2006 and married in May 2008.
---
"Research shows that stressful situations, uncertainty and danger all lead to greater affiliation, including long-term relationships," says Norman Li, an assistant professor of evolutionary social psychology who specializes in mating and attraction at the University of Texas at Austin. "The increase in affiliate behavior happened after 9/11—people connected with old friends, new friends, family and romantic relationships, and it may be reasonable to expect the same things to be happening in response to the current economic downturn."
For singles, the drive for companionship may become stronger during times of financial stress.
"Just as investors look toward protecting what they have and locking in on a safe investment, single individuals probably feel an increased need to form a long-term relationship," says Li.
Online Services On Target
Match.com, for instance, saw paid subscriptions rise 5 percent to 1.3 million in the fourth quarter of 2008 and registrations were 22 percent higher in December than at the same time last year.
"People are coming at record numbers," says Mandy Ginsberg, senior VP and general manager of Match.com North America. "If you go out with a bunch of girlfriends it might cost you more than Match; it's a pretty cost effective way of finding someone to date."
Rival eHarmony.com saw a 20 percent spike in memberships from September 2008 through January 2009 compared to the same time frame last year. Interestingly, both dating sites reported the highest traffic on the Dow 30's worst days. As the blue-chip index shed 100 points or more in September and October, eHarmony' page views rose some 2 percent compared to days the Dow gained 100 points or more.
"People look at improving their personal life as something that is in their control on days when the financial world seems so out of our control," says Greg Waldorf, CEO of eHarmony. "You want something else to do that is positive."
The online auction site for engagement rings, IDoNowIDon't.com, has also enjoyed a recessionary pop. Ring sales more than tripled and Web site traffic has quadrupled between September and December in 2008, according to the company.
Sales totaled over $1 million, a 50 percent increase from the year before, says CEO David Becker.
"People look at diamonds and jewelry as a way to quickly solve a financial dilemma," says Becker. "You need to pay your mortgage or your car bill, or in some cases you need to pay your country club bill."
Evonne Tran, a student from Evanston, Illin., found her engagement ring for 75 percent off the $4,000 store value.
"I just love the Tiffany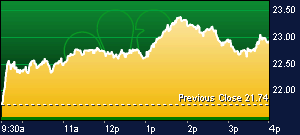 [TIF Loading... ()

] rings," she said. "It's so expensive when you get it at the store, so I got a really great deal."
New York Is For Lovers
New York City, long-dubbed the world's financial hub, is positioning itself as the new marriage capital. In January, Mayor Michael Bloomberg unveiled a $12.3 million, 24,000-square-foot marriage bureau, hoping to attract couples from the US and abroad.
"The city wants to be the No. 1 marriage destination in the world," says Michael McSweeney, first deputy city clerk. "We want to take on Las Vegas."
New York City issued some 66,000-marriage licenses last year, while Clark County, Nevada, which includes Las Vegas, issued 96,024 licenses, according the bureaus' records.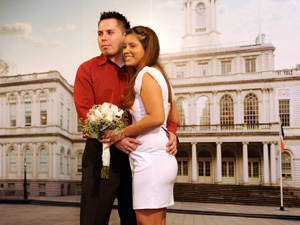 Photo: Julienne Schaer Courtesy of NYC & Company
Former Marine Carlos Sanchez and Jennifer Avila were the first couple married at New York City's new wedding chapel.
---
Although January is typically the slowest month, the number of weddings in the first weeks has exceeded last January's, according to the mayor's office.
The process was more convenient than a church ceremony for Denise and Christophe Ungbao, who married on Feb. 3.
"His family's in France and mine is all over, and it's kind of easier just to have it and nobody gets offended," says Denise Ungbao. "And the main reason of getting married is there; it's just for us."
In addition to marriage licenses, the bureau sells floral bouquets, costume rings, tissues and NYC merchandise.
"There's a lot of cache to say you were married in New York City," says Tiffany Townsend, a NYC & Company spokesperson who is getting married in the city this year. "Whether you are a couple that has $10,000 to spend or if the sky's the limit, New York City is the type of place that has something for every type of budget."
Local businesses are also hoping to build on the marriage buzz.
The Ritz-Carlton New York in Battery Park unveiled a package exclusively for couples married at the bureau. For $325, the "NYC Nuptials Wedding Night" includes a complimentary room upgrade and two glasses of champagne exclusively for couples married at the bureau.
But for twosomes looking to tie the knot on a tighter string, a wedding at New York City Hall may be the most viable option. A marriage license goes for $35 and a ceremony costs $25.
"It's the perfect location and perfect place to do something that's not expensive," says Monica Pereira, who wed Witlet Maceno on Feb. 3. "And you can use credit credits."
© 2009 CNBC.com